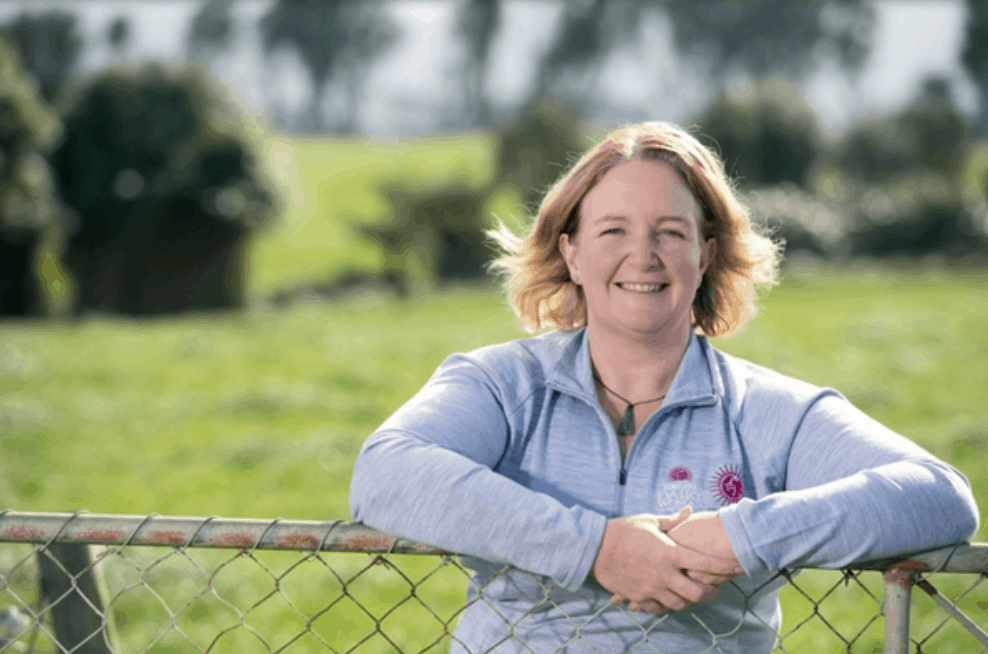 The past year
And the winner of the 2019 Dairy Woman of the Year is Trish Rankin.
Mike Cronin (Fonterra) blew me away when he said that. You see, I'd settled in to enjoy my night with my sister, kicked off my shoes and had a wine or two with the team from Kellogg/Nuffield and Meridian table where I'd based myself. I was happy waiting to see what awesome fellow nominee won the big award.
My journey to Dairy Woman of the Year has been about "me knowing me" as much as me doing stuff for others. My breakthrough came this year (2019) when I completed my Kellogg Rural Leadership Programme – a 6 month leadership journey of self awareness, industry awareness and a big learning project focus.
Yes, I do a lot of stuff for the industry and my community – because I love it. Lots of people do. I don't know any rural women who aren't on a PTA, BOT, community boards, sport coaching, managing, committees or groups.  It is often in the nature of women for 'service before self' mentality – especially if you have kids!
My personal breakthrough this year was during the Kellogg Phase 1. Nine  intense days at Lincoln University where you really critique the 'WHO' you are, what makes you tick and WHY! I discovered I love to be in the 'middle' and there's a term – "leading from the middle" that summed me up. I like having a say in decisions, but even more I like carrying out the actions for the plan decided upon. That is my happy place.
So when I was nominated initially I turned it down. No way was I anywhere near the achievement of previous winners. Receiving a 2nd nomination and a phone call from the CEO was the push I needed. When asked – what was stopping me – the realisation was that I didn't think I was good enough. But here I was on committees and Dairy Industry Awards National Exec always telling people to back themselves and have a go – and I wasn't doing it.
It was hard to have the confidence (and the push and shove) to go through the nomination process for Dairy Woman of the Year. The day in Auckland, meeting the other nominees, being interviewed and being on camera recorded in a 'informal' chat was such a great day. It didn't matter after that if I won or not – the people had been so great to get to know! AND I LOVED being interviewed – being able to answer the "tell us what kind of leader you are" question confidently and with passion really articulated just how far I had come in 2019 in knowing myself!
So, winning – WOW. The doors opened, the phone calls and interviews. The invitations to be part of industry things. I have spoken at a MYOB luncheon, Accountants Breakfast, Lions Dinners. I'm completing my (online) Post Grad in Business Innovation in Circular Economy from Bradford University in the UK ANNNNDDD I'm going to Harvard (Boston) in January for the Annual Agribusiness Seminar. NO way I could have afforded to, nor have the confidence to do any of these things without the 2019 Fonterra Dairy Woman of the Year Award. Thanks Dairy Women's Network and Fonterra for this life changing award.
Trish Rankin