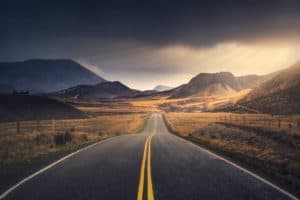 Succession – a 1000 mile journey
Succession is a journey with many twists and turns. As the Chinese philosopher Laozi said, "a journey of 1000 miles starts with a single step". Although not part of Laozi's quote, I imagine he assumed the first step would be in the right direction, as if not, the journey will be much longer and harder.
Many views and teachings tell us those first few steps on the journey should involve – ownership structure, balance sheet and profitability (free cashflow). I have worked alongside farming families and instead learnt the first step toward the 1000 mile destination is engagement and participation of family members in the family business.
If your first steps do not achieve engagement and participation, any change in direction can be frustrating and feel like succession is failing when its actually just a correction to get back on the right track.
Engagement and participation is not about hours worked or chores ticked off, it is a curious, interested mindset and contributing with purpose to the understanding and challenges of the business now and into the future.
In farming, succession is often focused on the next generation and too often parents feel stressed when children are not interested in taking on the practical side of farming. Farm succession needs to consider multiple future generations and the decision of children to work outside the farm business does not consign the family farm to a single option of sale.
Structures and roles can be established within any business to ensure efficient and effective management. A successful operating business, farm or otherwise, does not live or die on the day to day involvement of a family member.
Children heading off to pursue different careers bring diversity of thought and experience back to the family. A child's unique career path needs to be seen as a strength not a weakness for the family business and the succession journey. This strength just needs to be recognised, valued and engaged with the business strategy.
Why allow selling to be the only perceived option when holding and growing an irreplaceable asset through a number of generations is possible. The passion and efforts of previous generations who strived over a lifetime to own a farm can be held for future generations to come. The next passionate farmer may be your granddaughter.
What cannot be comprised however is the engagement of all generations of the family to the success of the business. Legal structure, balance sheet and profitability to support successful succession are important and need to be put into place, however the first step in the right direction is engagement and participation from all family members.
An effective way to achieve this is through an Advisory Board.
Under the right leadership, the structure, activities and discipline of an Advisory Board allow family members, whether working within or outside the business, to make a meaningful contribution to its immediate direction and success. It is interest, curiosity and contribution through the Advisory Board that will bring a sense of progress and purpose to succession.
An Advisory Board also provides an environment or safe zone for family members to share their goals and aspirations, what they want to achieve along the succession journey (refer to my article https://www.8pointcompass.com/articles/2019/2/26/the-safe-zone).
If you would like to build engagement across your family and develop options to progress your families succession journey, email Mark Heer at 8pC on mark.heer@xtra.co.nz or phone 0275579422.