9th JULY 2020
Dairy farmers throughout New Zealand are about to benefit from specialist animal health knowledge, as Dairy Women's Network enters into a new partnership with global veterinary diagnostics and leading research and development organisation IDEXX.
The partnership is the latest in a series of IDEXX community support initiatives worldwide, and sees a team of in-house specialists and vets become available to the Network for national and regional events, said Dairy Women's Network CEO Jules Benton.
As well as contributing knowledge to Dairy Women's Network members, a percentage of each dairy test completed with IDEXX technology will be set aside in a fund for Dairy Women's Network. While there is no set spend, the Network is hoping to earmark the funds for further development of women in the dairy industry.
"Women in the dairy industry are the heart of Dairy Women's Network. As an organisation we are dedicated to providing women with the knowledge and skills they need to go further in the industry," said Benton.
"This partnership not only means extra monetary funding for the Network, but an invaluable set of knowledge that our members can draw on and implement in their communities."
IDEXX chose Dairy Women's Network to receive funding because both organisations share a passion for their communities and for enabling people to make informed decisions and do the right thing, said IDEXX New Zealand General Manager Carl Eden.
"I see such synergies in what we're looking to do in the future as New Zealand looks to maintain our productivity but doing it in a manner that is socially responsible, looking after the health and wellbeing of all those involved in the rural industries."
The new partnership will help IDEXX continue to act in a socially responsible way on farm, from managing disease to optimizing fertility, said Eden.
"That for me is why our two organisations are so closely aligned from our purpose and principles perspective, and that really excites me."
As an organisation IDEXX is driven to enable better practices on farm, which helps farmers to make informed decisions and increase productivity and profitability. Their technology is provided to vets and other key providers worldwide to test the health and wellbeing of people, livestock and domestic animals. All tests are run through their own laboratories or strategic partners in New Zealand.
IDEXX is the global leader in veterinary diagnostics, water microbiology, antibiotic residue testing for milk and has been supporting New Zealand innovation and efficiencies for over 20 years.
Ends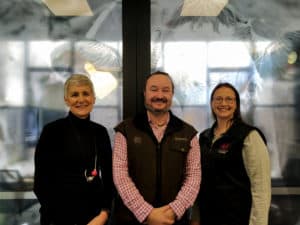 For more information:
Zellara Holden, Partner Relationships, Marketing and Communications Manager
Dairy Women's Network
07 974 4850 or 021 177 0300