DWN Rotorua Business Group  
The Rotorua Dairy Women's Network Business Group have been around for six years, and they have achieved a huge amount for their members in that time.  
The Group has six of the original members of the 12 that make up the Group today, and they meet ten times of year, just not over calving or January holidays.  
Rachel Haskew is the founder of the Business Group concept, "We did our first year as a pilot and were able to prove the concept worked.  We then pitched it to the DWN Trust Board to fund expanding the concept into other regions and prove it was scalable and repeatable. The Board backed the idea.  Essentially, we took the essence of Dairy Women's Network and everything that our members love about what we do and how we do it and evolved that into a new offering to farmers".   
The Group reflect they've stayed true to the original concept over the six years and having built strong trust based on shared values. Through the Group they are able to tackle challenges in their dairy businesses, learn together, question each other's thinking and provide different perspectives and knowledge – 'the gold is in the room'. 
Megan Dyer, the Rotorua Business Group lead says, "We're not a cows and grass kind-of group and we have an environmental sustainability and efficiency focus this year because of the passion of our members and the direction the dairy industry is quickly moving.  
Cathy Brown is another founding member of the Group reflects that they wanted somewhere that was a safe place to belong and that you didn't have to leave as you progressed through your farming and leadership journey.   
"We're here for all stages of the journey.  There is no other place in the industry where you can get what we get in this Group. We like to think of ourselves as forward thinking with a progressive future focused philosophy, because we bring the challenges that face farming and put a voice to them. We act like a 'think tank' and our only directive is to solve problems going forward", says Cathy.  
The Group say part of what makes them so special is the diversity of the Group. 
Karen Forlong says, "We are a diverse group of women who each think about things very differently and offer a wide variance of perspective due to age or stage – in some environments this can often be a barrier, but not here.  The flow of knowledge between the younger and older members of the Group is amazing.  As a farmer in the later stages of my career I know that our dynamic means my experience is valued and respected through peer-to-peer learning".  
Over time, they've built strong connections and trust. "It makes us stay together. We are a professional business group".  
Astre-lee Burrows, believes the skill, knowledge and professional growth in the Group is transferable to other roles, for example governance and industry leadership. "The Business Group sets our members up with the ability to be the change makers within our industry.  We are women helping our industry move forward".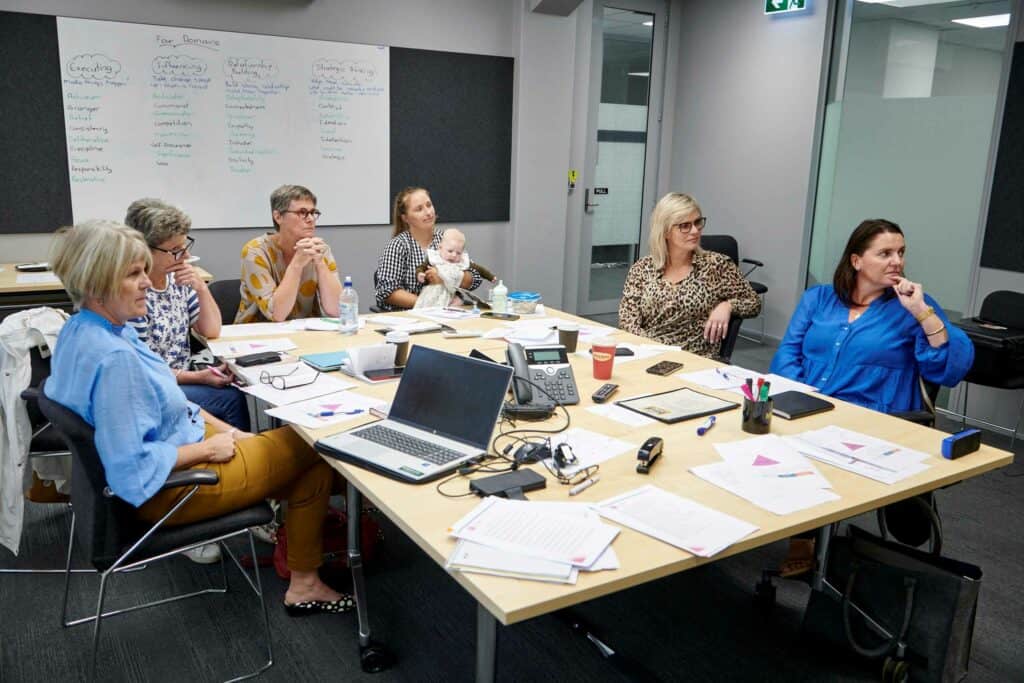 The impact the Group has on its members, even at one meeting a month, is significant.  
Rachel reflects that she likes to go home with business and farming solutions. "Although we might not go home after a meeting and do something different the next day, over-time, little things begin to change. It enables us to go home with other perspectives and have the confidence to have conversations with business partners".  
A great example is one of the Group wanting to take on a sharemilker and step back from the day-to-day dairy farming operation. Over a few sessions, the Group reviewed the pros and cons of her options, supporting her throughout the process as trusted advisors.  For another, it was when they exited sharemilking last season, "I went through the process alongside this amazing group of women. I talked the challenges through, they challenged me back and gave me new thinking". 
Megan encourages any dairy farmers to reach out to DWN or their local Business Group, or even consider setting up their own group with DWN's support.  
"In the DWN Business Group, we get to have the professional and personal all in one place. We think of ourselves as professional farming colleagues in a world where you don't really have colleagues and are often isolated on farm. Each Group has the flexibility to develop their own agenda based on the needs of Group. It's a very special experience, even, and maybe especially, after six years. We are the gold outside the farm gate".  
Ends. 
Find out more or get in touch about DWN Business Groups.