Sue Skelton, Northland Hub Leader 
It wasn't that Northland dairy farmer Sue Skelton had not previously known the value of the network of peers that is the Dairy Women's Network (DWN) where members share information, learnings and insights with each other on a regular basis. 
However, Cyclone Gabrielle and the aftermath has given fresh edge to her appreciation of the power and resilience engendered by the DWN.  
Leader of the DWN Northland Hub, Sue describes herself as a dairy farmer who loves the land and her cows but is also a passionate learner.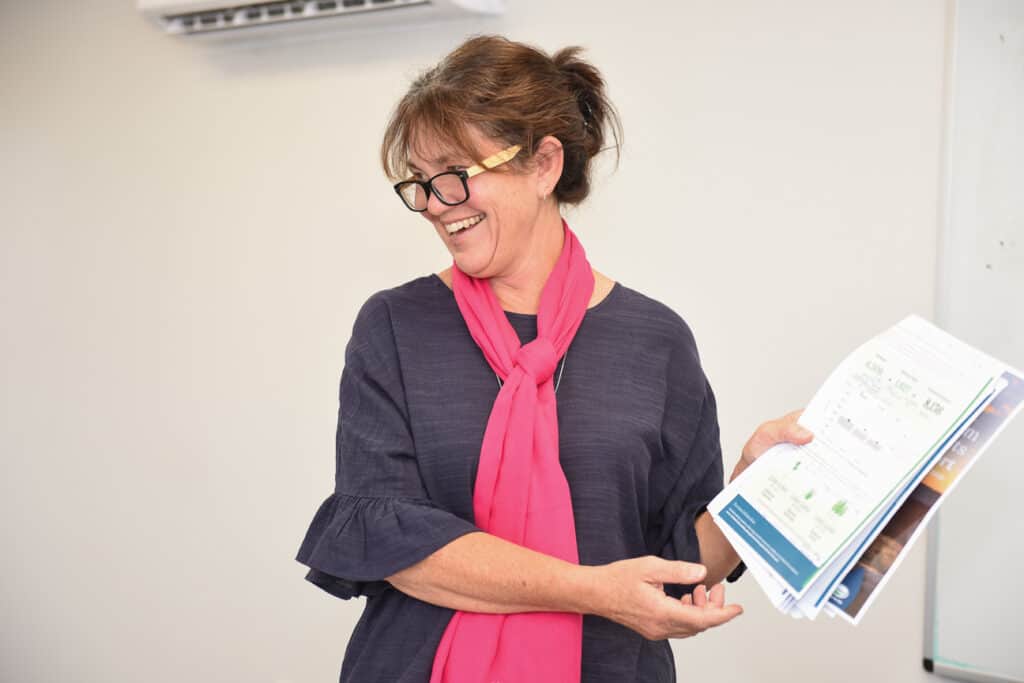 A DWN member for more than a decade, she was Regional Leader for six years before taking on the hub leadership role – a step she confidently took in 2020 just as the country was locking down in the face of Covid. 
Attributing her self-belief in stepping up to the position to her experience on the board of trustees for Tauraroa Area School, which her four sons attended, Sue says: "I found I really enjoyed working in a team setting, solving problems and encouraging others, so moving in to the hub role was a natural progression".  
Later in 2020, Sue was instrumental in establishing the Region's Coast to Coast Business Group, one of a growing number of such DWN groups around the country set up to provide dairy women with the skills and tools to navigate the change facing the sector so they can successfully and sustainably farm into the future. 
Under the Business Group umbrella, the DWN has launched the dedicated Farming for the Future Leadership Programme, an opportunity Sue is grasping with both hands.   
Sue farms alongside husband Peter and they have two dairy farms in the Waiotira district to the southwest of Whangarei. On their home farm they milk 220 cows, while on the second farm one her sons and his wife contract milk 300 cows and manage a support block.   
She says she loves how dairy women 'just get each other' – and nothing was more evident as Cyclone Gabrielle lashed Northland causing widespread flooding and power outages, as well as during the subsequent weeks as the damage to infrastructure and farmland was evaluated and the massive clean-up got underway.    
Sue and her DWN Business Group Coast to Coast team quickly stepped in to check up on each other via a Messenger chat group, which was their only form of contact with power and other communications down.  
They initially checked whether people and animals were safe, and who had electricity and could carry on milking. They were able to share vital information from Rural Support Trust, Civil Defence, North Power, and many others. They were also able to connect people to a generator coordinator to link those who had no generators to that much needed resource.  
Not only did they swiftly identify the practical – who was at real-time risk of the rapidly rising floodwaters, what roads were closed, where the slips were and where the bridges were out, who needed help including which farms required generators to keep on milking – but also, they provided emotional support for each other.  
While her farms were not greatly impacted, there were properties owned by a number of Northland DWN Business Group members that were – two of them severely after losing all their crops and a huge amount of pasture. 
"As well as getting prompt assistance for those who needed it and sharing photos to show the devastation, via our chat group we were able to voice to each other the simple but vital messages of 'we're here for you' and 'take care', which meant an enormous amount to us all," she says.  
"In the midst of it all another member graduated from the AgriWomen's Development Escalator Programme and so we all celebrated with her online, messaging 'how cool, how awesome, congratulations and acknowledged what a huge achievement this was."  
In the following days as the long-term impacts were realised, another member reached out to share what was happening. Her pastures were inundated by flood water, her cow shed flooded so they couldn't milk, with the result cows needed to be dried off around three months early. She had been reduced to tears.   
"Of course, we knew exactly what she was going through – not only emotionally, but also we understood the impact that drying off early would have on her farm business finances," says Sue.  
Being practically minded the local DWN Business Group members also got hands-on in the aftermath, including gathering to help clean silt and debris out of water troughs on a member's farm – although Sue wryly admits not too many troughs were sorted out in a day that was more about being able to get together and provide moral support. A bit of home baking did not go amiss either.  
Sue is a huge fan of the Business Groups, "If you want to know more about joining or how to set up a DWN Business Group, reach out anytime." 
Ends.
Find out more or get in touch about DWN Business Groups.