Meet the DWN2023 conference committee
The Dairy Women's Network conference is a chance for women to make connections, upskill with the latest industry information, and work together towards a brighter future for our industry.
Overseen by the Chair and supported by the core Dairy Women's Network team, each event is planned and delivered by women on the ground who know the needs of their regions. These women are dairy farmers and rural professionals, heavily ingrained in their communities.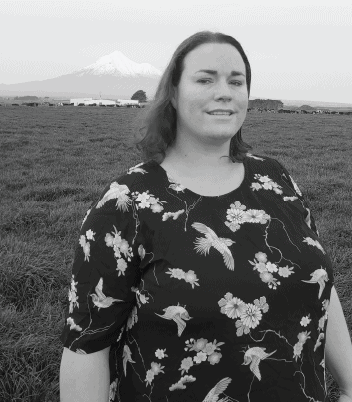 Nicola Bryant
Conference Chair
Nicola started out in the dairy industry as a relief milker, farm assistant and calf rearer, supporting her husband Michael in his previous management roles. Together they now contract milk 235 cows in Opunake. Nicola is full time on the farm over calving and mating, shares the milking, and manages the financial side of the business, compliance and paperwork. As well as her role as a DWN Regional Leader for Taranaki, Nicola is the Catchment Coordinator for Taranaki catchment communities and a trustee for Taranaki Rural Razzle, an incorporated society that connects rural, urban and iwi communities, educates about rural life, and supports members to connect with each other to build resilience. Nicola's favourite thing about the industry is the lifestyle, "where you can work and still have time to spend with your family, and have your children grow up in a rural life". Second to this, she loves the passion that farmers have for their land, animals and community.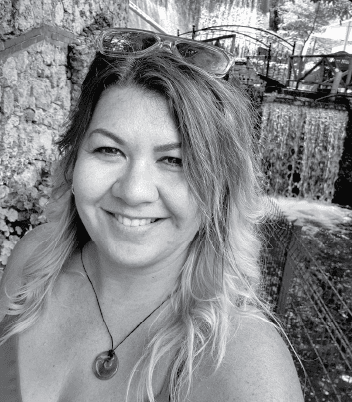 Kielee Mathis
Conference Vice Chair
Kielee's dairy farming career began when she met her husband in Reporoa. Originally sharemilking together, they went on to become farm owners and have been milking 300 cows on a farm in Galatea for the past 15 years. Their team includes a farm manager, a part-time relief milker, and their three adult children who give them a hand when they return home every now and then. Outside her roles on the farm, Kielee is a DWN Regional Leader for the Bay of Plenty and loves the ability that DWN gives her and others "to keep growing and giving back to their communities and the industry". She's passionate about sharing information and connecting with her community in their beautiful neck of the woods.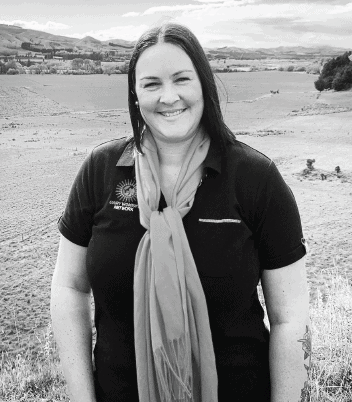 Bex Green
Chair Support
Bex grew up in the city and never imagined setting foot on farm, but that changed when she met her husband Blair. Now contract milking 800 cows in Cheviot, North Canterbury where she has been based for the past 3 years, she can't imagine raising her three children anywhere else. Her roles on farm are varied – apart from being a wife and a mum she rears calves, manages the books for the business and helps on the farm daily throughout the year. Outside the farm gate, Bex is the Federated Farmers North Canterbury Senior Vice-President and Dairy Vice-Chairperson, and has been a DWN Regional Leader for the past 2.5 years. Bex's favourite thing about the industry is the people: "We all do what we love and love what we do. We are proud about what we do, who we do it with and who we do it for. We are passionate about being better and doing better, always. We love the animals, the land, the water, our people. Great people are what makes the New Zealand agriculture industry what it is."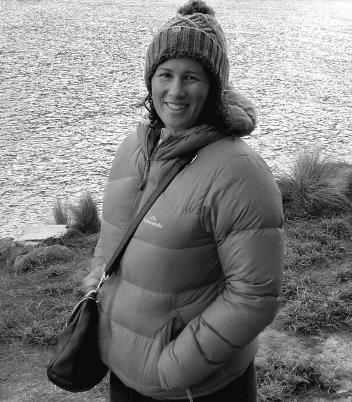 Aimee Wilson
COMMITTEE MEMBER
Aimee was born into the dairy industry and is now lower-order sharemilking on a 500 cow dairy farm on the outskirts of Te Awamutu with her partner and three children. She has a strong interest in the grass roots of farming, the cows, the pastures and the people. Aimee enjoys being part of DWN as a Waipa Regional Leader and loves the connections she has made with other like-minded women, joining "a tribe of beautiful but powerful women who enjoy helping others to learn and grow within our industry".
Olivia Byars
COMMITTEE MEMBER
Born and raised in Wellington, Olivia first entered the industry when she met her husband. After two years of long-distance she joined him on the farm in Southland at the start of winter, immediately finding her feet and her role on the farm rearing calves, doing the accounts, relief milking and helping out with the odd day-to-day tasks. She has never looked back, and after trips back to the city to see friends and family she looks forward to returning to the calm, or chaos, of rural life. Olivia's favourite thing about the industry is "how hard-working and passionate farmers are about the land and animals".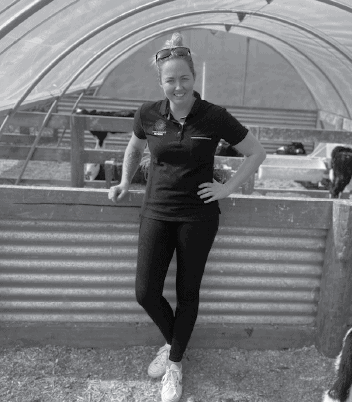 Rachel Usmar
COMMITTEE MEMBER
Rachel is from a dairy farming family and, while she started her working career as a hairdresser, she has never been able to stay away from the farm. She holds multiple roles in the industry: milking 400 cows with her husband, running a year-round calf-rearing operation for autumn and spring calves, and supporting DWN as a Regional Leader for Waipa. Rachel has an interest in mating and works as an AB tech for LIC. Rachel's favourite thing about the industry is the animals and the people: "I've always said that the dairy industry is like one big family and together we stand strong and proud of what we do".